This is the current line up of JMC50 musicians.  All are either original members of the Jaguars or Miller's Cave or are second generation to original members!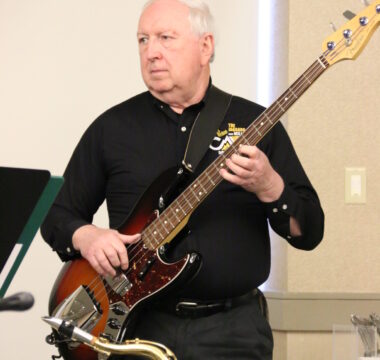 Jim started in music with piano lessons in the 4th grade, followed by recitals and duets.  Both his maternal grandparents were pianists; and his mother considered being a concert pianist.  From 5th grade, he moved to saxophone and continued advancing through high school; playing in the pep and stage bands, and soloing during band concerts.  Jim was also in a working band outside of high school, playing fairs, dances.  When the "British Invasion" started, he began learning bass guitar, as a precaution.
He entered UMR in the fall of 1964 and soon started playing saxophone in the Jaguars. Later, he met Bill Meeker, another sax player who joined the Jaguars as well. In the fall of 1965, the bass player left, so Jim moved to bass.  More personnel changes followed and by 1966, the Jaguars had expanded.  By 1967, they had a horn section, vocals, and organ. 
The big rock band sound developed and continued through the spring of 1969 when he graduated and left the band.  However, he continued playing bass and keyboards in occasional bands and organ in several churches in the St. Louis area.
From 2017 on, Jim is again at the bass position in JMC50.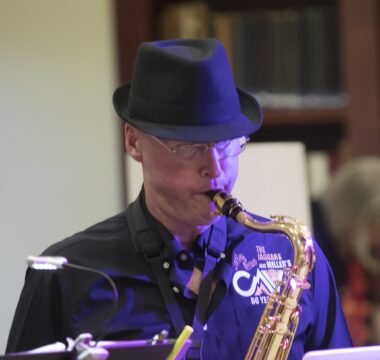 Bill grew up in Kansas City, Missouri and started out in music with a (metal) clarinet while in middle school; later switching to a regular and much nicer clarinet as a sophomore in high school.  He met future Jaguar and JMC50 member, Lee Testorff (keyboards, vocals), in high school and together they formed a Dixieland band.  But Dixieland music proved to be less popular than they had hoped, so they quickly pivoted to a rock and roll band and began to earn money.  Bill then changed his instrument to tenor saxophone.
He met Jim Labit (bass) near the end of his freshman year at UMR and joined the Jaguars. He kept a busy music engagement schedule, balanced with coursework, until graduation in 1968.  After that, there was little time for music while he traveled the world as a military fighter pilot.  He finally settled in Concord, North Carolina after a second career of teaching high school. 
Bill returned to music in 2017 with the formation of JMC50.
Lee is a keyboardist, singer and songwriter, originally from Kansas City, Missouri.  By the age of six, he wanted to play the piano; beginning fourteen years of classical training.  He was fascinated by the many styles of music he heard on the radio and began developing his own interpretations.
Lee began playing professionally at sixteen and happened to play in a local band along with Bill Meeker (saxophone).  During most of his time at UMR, Lee played organ, sang vocals, and wrote songs for the Jaguars, leaving when he graduated in early 1969.  Afterward, he spent time living and playing music in Jamaica, then in Austin, Texas.
He spent twelve years in California including five years at the Pebble Beach Lodge in Carmel and the Quail Lodge in Carmel Valley.  In 1990, he moved to the big island in Hawaii and spent twenty-seven years playing top venues like the Ritz Carlton Hotel, Huggo's Restaurant in Kailua-Kona, and others, with a two year hiatus to play the best spots in Vancouver and Whistler, B.C.  
A working musician for over 50 years, Lee now resides in Mayer, AZ.  He plays in a variety of bands and in church; and with the mighty JMC50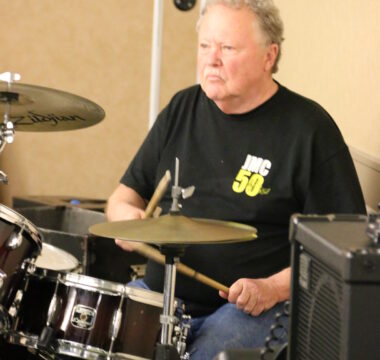 Dale was raised in Wentzville Missouri, the home of Chuck Berry.  His first professional band job was in his aunt's country & western band at the age of 13.  The drummer was killed in an accident and Dale inherited the position. He even spent several Sunday afternoons playing music, poolside, at Chuck Berry's home; and he appeared on Marty Bronson's noon TV show.  He was able to continue until he graduated from high school.  Dale saw the TV special that featured the Jaguars as Missouri college talent in the spring of 1966 and thought it would be great if he could be in that band when he got to Rolla.  
He started college at UMR in the fall of 1966 and, within a week, joined the Jaguars as its new drummer.  He played with the group through the height of the band's popularity and through its name change to Miller's Cave; all the way to his graduation in 1971.  Since graduation, Dale has played in rock, country, and church bands.  He has been a professional musician, continuously, since his youth.  
Dale still resides in Wentzville, Missouri.  He is active in local bands along with being a member of JMC50.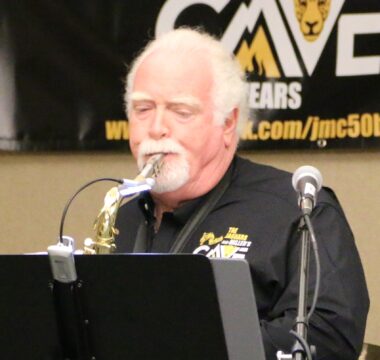 Tenor, Alto, and Soprano Sax and Lead Vocals
Gerry comes from Collinsville, Illinois and started on the saxophone in the school band while in 5th grade.  He also spent time at festivals and clinics and by 8th grade was playing lead alto sax in the high school stage band.  Then, he joined a student big band and continued with them throughout high school; also playing with some local rock and R&B bands all around southern Illinois.
He entered UMR in the fall of 1966 and had seen the Jaguars' televised talent show performance.   He soon saw a bulletin board advertisement for a singer to join the Jaguars.  The band got both a singer and another sax player in the bargain.  He also played in the UMR concert and stage bands for a time.  Gerry played with the Jaguars through the 1968-69 school year, then took a break, during which he again played with some southern Illinois bands.  He returned to UMR and the Jaguars (by this time renamed Miller's Cave) in 1970; graduating in 1971.  After graduation, his music career mostly consisted of singing with church choirs until 2017 when JMC50 became a reality.
Gerry lives in The Woodlands, Texas, near Houston and is a very active member of JMC50.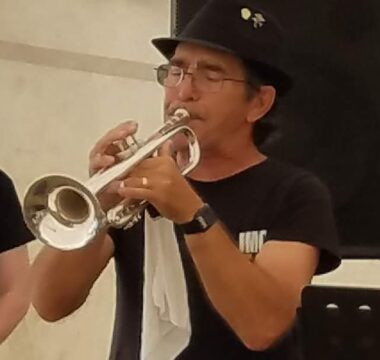 Chuck started playing trumpet in the summer after 3rd grade with free lessons provided by his school district in the south part of St. Louis, Missouri. At that time, he had to ride his bicycle to and from lessons. During 5th grade he started private lessons, progressing to the junior high school band. At first, he had a hand-me-down instrument and later, in 8th grade, a professional trumpet. He was in the high school band, ending up as 1st chair/solo trumpet.  Subsequent to high school, Chuck attended UMR and was part of the marching and concert bands.  After the first semester, he was again 1st chair/solo trumpet.
During Chuck's senior year of undergraduate work, he moved from listening to the Jaguars, to joining the Jaguars; his first rock band.  He played at all of the Jaguars engagements from the last half of the 1967-68 year through the end of the 1968-69 year before obtaining his Master's Degree, leaving Rolla and moving to Vicksburg, Mississippi for a long career, leaving the trumpet behind for many years until JMC50 was formed in 2017.
Chuck still lives in Vicksburg, Mississippi and is a big part of today's JMC50.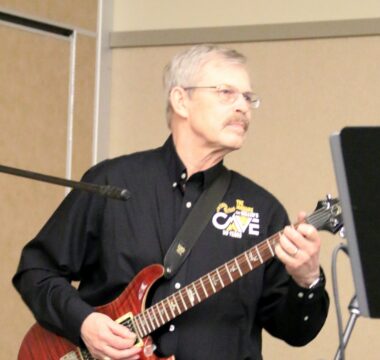 Dean started playing organ while in grade school; and played for events at his local church.  At age 8 or 9, he had the opportunity to play for the Kansas City area new car show, mostly as a novelty sponsored by an area music store where he took lessons.  By coincidence, he got to provide musical backing for actress/singer Connie Stevens, who was making a personal appearance.  By age 15, he temporarily lost interest in the organ, switched to guitar and had soon started a band with friends.  That band played nearly every weekend and even some week nights until high school graduation, 2 years later.
He expected to leave music behind when entering college at Rolla, but within a week of arriving, had auditioned for and joined the Jaguars, spending a little over three years with the band.  After that first college year 1968-69, the band changed its name to Miller's Cave.  In subsequent years, Dean played music at local churches in his new adopted home of St. Louis, Missouri; adding acoustic guitar, 12-string guitar, bass guitar, mandolin, ukulele, and fiddle to his keyboard and guitar skills. 
Today, he's part of JMC50, but still plays in his church band.
Herb started into music in the 5th grade, on clarinet, switching to tenor sax when he got to high school.  He played in the concert band, pep band, and jazz band throughout high school; sometimes even playing bassoon in the orchestra. He also played in a group with some friends and competed in a few battles of the bands in the south St. Louis, Missouri area.
He started college at Rolla in the fall of 1968, joining the UMR band; then in short order, auditioning for and joining the Jaguars on the same evening as Dean Park (guitar).  He was a constant member of the Jaguars and Miller's Cave for scores of gigs until the band ended (temporarily) in 1971.  Herb eventually earned his PHD at UMR and moved around the country for several years.
After finally settling in the St. Louis area and raising a family, he began playing holiday parties at nursing homes and the Missouri Veterans Home with Jim Labit (bass and keyboards).  Over the years, Herb remained close with those band members who lived in the St. Louis area; Jim Labit, Dean Park (guitar) and Dale Walterman (drums).
Now, he's a very active member of JMC50.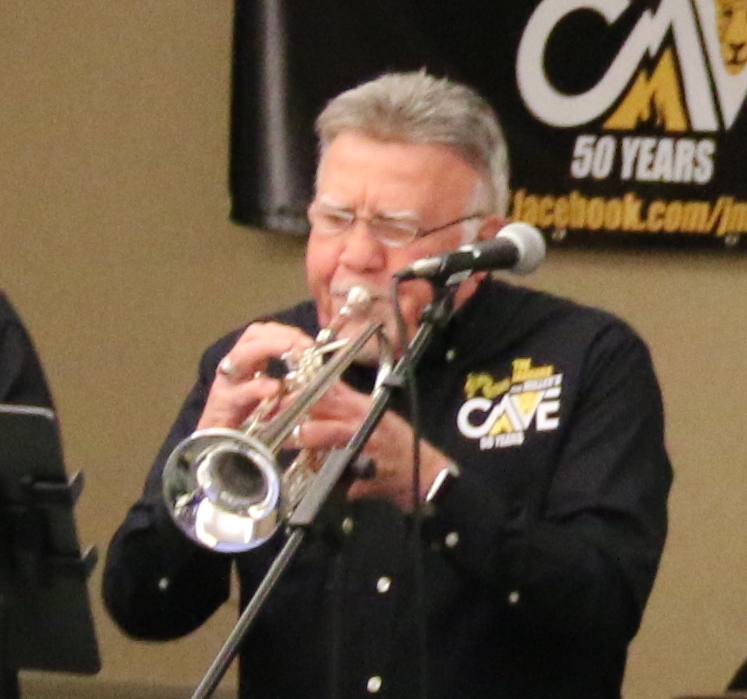 Trumpet, Flugelhorn, Trombone and Lead Vocals
Hugh Cole's band days started in high school. He played trumpet through 10th grade, then picked up the garage band bug that year and began to sing in a band from Florissant/Hazelwood area of St. Louis: "The Revolutions." The band made it in Bob Kuban's Post-Dispatch column a number of times, played a lot of parties, had a lot fun – but the band broke up his senior year.
Hugh graduated high school and started at UMR is January 1969. He remembers seeing the Jaguars at a party site at St. Pat's that spring.
He doesn't recall the details of getting into Miller's Cave, besides that the audition was in some basement next to the water heater.  His time with MC7 was truly memorable. He remembers playing at Chuck Berry's on his 21st birthday.  What seemed like a long time with Miller's Cave is now a blur.
Following graduation, he and his family moved around the country, setting in Southern California.
Somewhere along the line, he took up guitar.  That was soon dropped when the mighty JMC50 formed.  After 45 years away from playing brass, he jumped back on the horn wagon.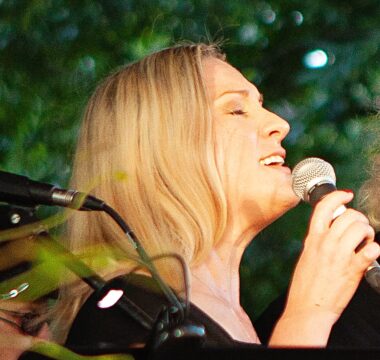 Lindsay has been singing since she was a toddler. Being the daughter of former Miller's Cave member Hugh Cole, and the younger sister of current JMC50 member Doug Cole, there was no way she was going to grow up not being musical. Some of Lindsay's fondest memories involve learning to sing harmonies from her parents (and The Beatles) during long car rides on family vacations. Lindsay began taking voice lessons around age 10, got an agent at age 11, and began performing in musical theatre productions throughout Southern CA shortly thereafter. She enjoyed performing in musicals and as a voice over artist through her junior high and high school years. After high school, Lindsay hit the road as a background vocalist for a young pop star.
Lindsay left the entertainment industry to earn a degree from her dream school, UCLA. She still sang and wrote and recorded music with a few friends' bands over the years, but is thrilled to be back in the game with JMC50 now.
Lindsay resides in Los Angeles and enjoys working as an Advertising Specialist at a social media marketing agency.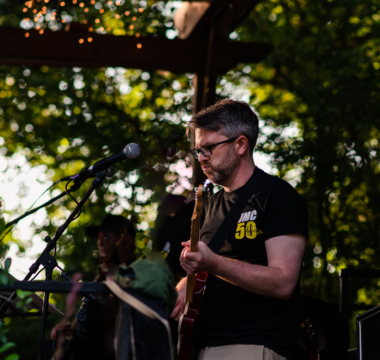 Guitar, Keyboard and Vocals
Doug has been musically inclined since day one. As a child, he loved listening to music, playing his good mini Casio keyboard, and taking apart his other (not-so-good) Casio keyboard just to see how it worked.
He got his first guitar when he was a pre-teen, and wanted nothing more than to spend hours on end after school learning songs by groups like Nirvana and Metallica.
Doug has written, recorded and performed with several bands over the years, and is no stranger to winning battle of the bands competitions and talent shows. In addition to being a highly skilled professional recording engineer, Doug spent some time in a 3-person writing team with whom he composed pop songs for other artists.
Doug currently works as a software developer in Portland, OR.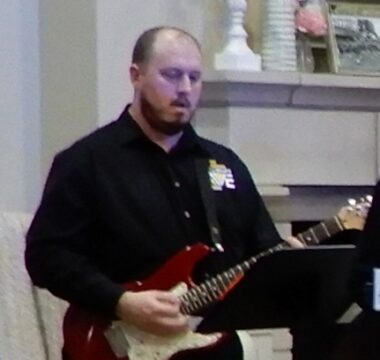 Marc was born in 1980 in Mesa, Arizona. He is the son of Bill Meeker, who was a member of the Jaguars. He started playing guitar at age 6, and by age 11 was totally hooked. He played in local bands in middle school through college, and also taught lessons. A lot of time in early years was spent hanging out at the local guitar shop, which was a constant supply of musicians to interact with and learn from. He started recording bands in 1996, which became a passion that would last a lifetime. 
Marc moved to Nashville in 2004 to work in the music industry as a recording engineer and audio tech. He started Meeker Audio LLC in 2009 to provide technical services needed to design, equip and maintain recording studios in Nashville and abroad. Marc currently tours with Rascal Flatts as a backline tech and and is a second generation member of JMC50.